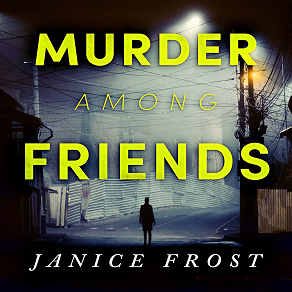 Isbn:
978-87-4283-111-3
Publisher:
Jentas
Category:
Crime & Mystery
Accessible since:
February 2022
Narrator:
Fran Burgoyne
Length: 8 hours 43 minutes
---
Murder Among Friends
Meet Jane Bell. After her husband dies she leaves her job as a teacher to volunteer as a special constable with the police.
On her very first shift Jane is called to the scene of a murder. A young man has dragged himself to the top of Greestone Stairs to die. Following her instincts, Jane finds herself becoming very involved in the case …
For Detective Steph Warwick, specials have no place in a murder investigation — and this upstart rookie is meddling where she doesn't belong.
The victim ran a group at the university teaching men how to pick up women. Jane and Steph must venture into a dark and dangerous world of online misogyny.
Steph knows about abusive men. But can she work with Jane to put this killer behind bars?
"A truly fascinating and intriguing storyline." Ray G.
"A great read that pulls you in right from the start. I couldn't put it down and finished it within a few hours. Janice really knows how to write and pull you in." Erin S.
"Well-written, fast and with a relevant plot line and interesting characters. Has the potential to be the start of a decent new crime series." Donna B.
"Full of everything: twists, turns and dynamo ... plenty of gripping moments ... this book is tremendously written, right till the last page. I highly recommend it to readers." Booklover Bev
"Have read other works by Janice Frost, she has a unique ability to give us the setting that draws the readers in. A new series and looking for more!" Ellen W.
"It's a good mystery that I was fully immersed in and definitely recommend." Hannelore C.
"For the first book in a new series, I'm excited to see where Frost takes it and would recommend to other readers who enjoy a detective 'whodunnit' book!" Rebecca P.
"Really enjoyed this book it was full of twists that kept me guessing and was a thrill ride. Had me hooked from page one and I read it in one sitting as I couldn't put it down. Very good read, most enjoyable." Dawn L.
"A good well-written, fast-paced thriller which held my interest throughout." Carol D.
Janice was born and grew up in West Lothian, Scotland. Her love of writing began when she was given a notebook by a primary school teacher and told to write 'Just Imagine,' on the cover. She enjoyed writing stories in the notebook so much that she decided she'd like to be an author. Due to life, work and children, It took a little longer than she imagined.
After living and working in London for ten years, Janice moved to Lincolnshire where she still lives with her husband and one of her two sons.
Janice is the author of six books in the bestselling Merry & Neal series, and the standalone mystery, The Woman on the Cliff.
Murder Among Friends has been nominated for the 2021 Readers Choice Awards contest by TCK Publishing.
Listen to sample
---